Ansul R-102 Restaurant Fire Suppression System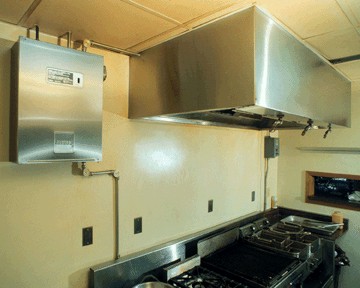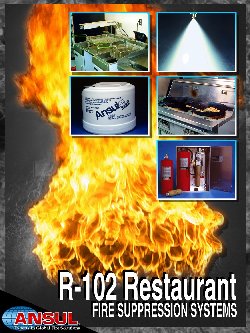 Features
Application
System Description
Request a Quotation
O & M manual for Ansul R-102 system. (PDF reader required.)
Features
- Low pH Agent
- Proven Design
- Reliable Cartridge Operated
- Aesthetically Appealing
- UL Listed: Meets Requirments of UL 300

Application

The

R-102 Restaurant Fire Suppression System is an automatic , pre-engineered, fire suppression system designed to protect the following areas associated with cooking equipment; ventilating equipment including hoods, ducts, plenums, and filters; fryers; griddles; and range tops etc.

The system is ideally suitable for use in restauants, hospitals, nursing homes, hotels, schools, airports, and other similar facilities.


System Description

The restauant fire suppression system is a pre-engineered, wet chemical, cartridge-operated, regulated pressure type with a fixed nozzle agent distribution network. It is listed with Underwriters Laboratories, Inc (UL).

The system is capable of automatic detection and actuation and/or remote manual actuation. Additional equipment is available for mechanical or electrical gas line shut-off applications.

The detection portion of the fire suppression system allows for automatic detection by means of specific alloy rated fusuble links, which, when the tempreture exceeds the rating of the link, the link separates, allowing the regulated release to actuate.
For a DATA SHEET with a full description of this system,click here. (PDF reader required.)
For a MATERIAL SAFETY DATA SHEET for the suppressant in this system, ANSULEX,click here. (PDF reader required.)
Request a quotation (Europe only)
For a quotation on a specific kitchen please contact us by e-mail with the following information:
- Number and size of duct/s.
- Dimensions of canopy.
- Appliances to be protected.